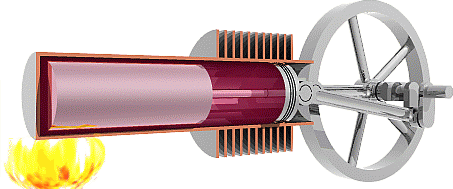 By Van helsing (Own work) [GFDL, CC-BY-SA-3.0 or CC-BY-2.5], via Wikimedia Commons
Stirling engines are a great place to start when learning about the Thermodynamic Cycle. It can open the door to the science in very simple terms that most people can understand. However, the Stirling cycle topic can be very complicated. There are entire college level courses created just to teach about the topic of working fluids in these engines. Not to mention the mechanical parts, how heat is transferred and stored, types of materials used and the application of the engines for commercial use.
But don't worry about all of the technical stuff. You can build your own Stirling in no time at all. I build first one in an evening with a soda can, a latex balloon, a CD, a PVC pipe fitting and a little bit of J.B. Weld. If you take your time and be accurate with your construction you should have success right away. Mine started spinning on the first try with no trouble shooting at all!
There a of things to know about heat engines. So I will continue to add new content.