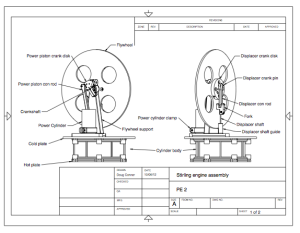 When selecting Stirling engine plans you need to decide if you're going to build a high skill level machined engine or just a tin can stove top model. Your limits may already be set. For example you may not have access to the tools to make a precision Stirling engine.
Also, you may not have the skill level (yet) necessary to build a more complicated model. So choosing the proper Stirling engine plans can play a large role in your success.
It's important to have a clear understanding of the basic principles behind the Stirling engine. It will help you to choose the correct project.
If you're completely new to Stirling engines I would recommend An Introduction to Stirling EnginesBy James R. Senft. It was the first book I read on the subject. It's easy to read, has many diagrams and drawings and makes it easy for the average individual to understand Stirling engines.
If you would like a quick understanding of the basics you can read my very brief overview on the diyStirlingEngine.com home page.
You can also read more about Stirling engines at wikipedia.org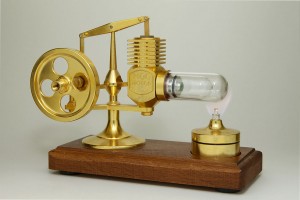 By Minnou (Own work) [CC-BY-SA-3.0], via Wikimedia Commons
Instead of searching for Stirling Engine plans you may consider looking for Model kits. There are many manufactures that create fully assembled table top models. The companies usually sell kit versions that you can put together yourself.
Most kits require few tools and can be assemble in a relatively short amount of time. This is a good exercise to increase your skill level and understanding of the engines. Some of these companies also sell Stirling engine plans as a third option.
Build from scratch using Stirling Engine Plans
I like to split these into two categories. The types that need an amateur machine shop and those that do not.
Machine shop needed
Typically these Stirling engine plans have a list of materials to purchase, drawings of the parts to be machined and assembly drawings.
It's important to read the description before you purchase this type of Stirling engine Plans. Because they may be limited to just the parts drawings or may not have a materials list at all. You want complete Stirling engine plans that have all of the information. Even better, would be a list if material suppliers.
No Machine shop needed
Good quality Stirling engine plans that need no machining equipment are a little more difficult to find. This is because it's difficult to control the variables without machine shop precision. However, there are plans out there. I will continue to add them as I find them.
Some of the basic variables:
heat transfer
friction
balance
displacement
expansion
compression
timing.
Stirling engine plans
I have found a few Stirling engine plans that I think would be good projects. These look like they would be fairly straight forward projects.
Links to plans
Open-source 3D Printed LTD Stirling plans
Doug Conner of Solarheatengines.com has designed a game changing 3D printable LTD Stirling engine. The information and downloads are available at Thingiverse.com. You can find more information on his site here: 3D printed Stirling